Back when we hadn't been established as Picturesque, by Mr and Mrs M for very long we got a call from Hannah's mum enquiring about our wedding photography. We met up with them and fell in love with their family. They were so welcoming, friendly and enthusiastic. We all got on so well and we were over the moon that they booked us for the wedding at The Parsonage, Dunmore Park. It was our first booking for there, although we've done a few now, and we've come to love it. It is such a beautiful setting for a wedding and there are plenty photo opportunities.
As usual, in the morning I spent my time with the girls and Bryan joined the guys. I also worked alongside Gemma from Pretty Little Faces again (our 3rd week in a row!) so we knew the makeup was going to be stunning!
Gemma and I both agreed that this was the most emotional bridal party we had ever seen! Everyone was constantly on the brink of tears, but it was so lovely to see how happy and involved Hannah and Kris' friends and family were.
Lots of little details made this wedding special. Hannah had photographs of the grandparents her and Kris have loved and lost attached to her bouquet and her grandmother's wedding band was sewn onto her garter. The bridesmaids dresses were absolutely stunning and the orange and black theme worked so well. No detail was overlooked and there was lots to see and do.
The weather was perfect. When we're outside we don't want it to be spectacularly sunny; just warm enough for the guests to feel comfortable mingling and slightly overcast so that our pictures expose well.
Hannah and Kris were married in the ceremony room and then had a drinks reception with chocolate covered fruit out on the terrace (supplied by Strawberry Blooms), allowing them to mingle and greet their guests. Group photos were done and then the gorgeous bridal portraits.
Here are some of our favourite images from the day.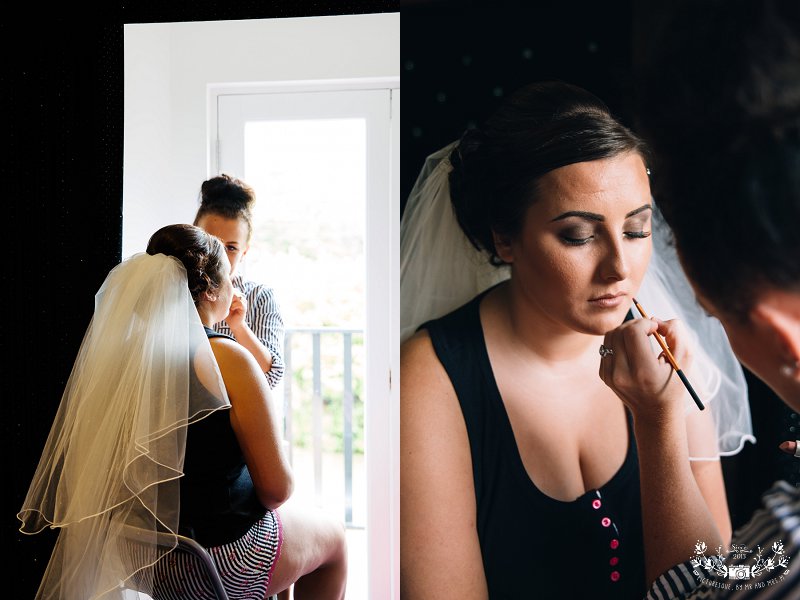 Hannah and Kris, thank you for having us to photograph your day. We had a fantastic time and will always remember it. We hope you are enjoying your honeymoon in Jamaica!!
Stacey and Bryan x