This wedding was just amazing. We seem to start every wedding blog post with those words but this one was something else. It was so unique and quirky that all day we were seeing little details and extras that made Shelley and Gavin's day very "them".
We first met with them a couple of years ago and as they told us a few of their plans for the day we started to get really excited and it was one of our weddings this year we really couldn't wait for.
Shelley started off with make up at Fusion salon in Manor street and hair done by Hair House Locks within the same salon. As soon as we walked in there was a buzz and excitement about the day ahead and everyone just looked amazing. The guys were getting ready at Gavin's parents house and it was a lovely relaxed start to the day for them too.
What really made this day unique was that they held it at a new venue called Spoke 'n' Boot. It's a small site of glamping pods aimed at walkers and cyclists making their way along the canal and looking for an overnight stop. This is only the 3rd wedding to be held here with owners Sandra and Stewart being the first a couple of years ago, and we really think they are on to a winner for those who want an amazing space that they can completely DIY for their own take on their wedding.
It was an outdoor ceremony and despite torrential rain the day before the guests managed to make their way over the grass and we only had to deal with gusts of wind blowing the balloon arch! Melanie Leckie delivered another beautiful wedding ceremony and it was a pleasure to work with her yet again.
Everyone made their way over to the marquee for drinks and snacks while we photographed some lovely family pictures. A large part of this day was the candid photos we got. The whole day was so chilled with no set structure limiting us with timings and when things must be done by. It was extremely liberating and we feel we captured so much more because of that.
It was clear everywhere that you looked that Shelley and Gavin put so much thought and effort into providing the best day they could for their guests in all the wee details that caught your eye.
We also loved their cake! Karen of Mrs Pea's Cakery baked an outstanding UP themed cake and we absolutely loved the armchair cake toppers! She's married to Shelley's brother so it was really nice for her to get a picture with the cake and for her to see everyone's reaction.
Bridesmaid Lauren did an outstanding job of introducing the speeches. After an emotional father of the bride speech, Lauren said a few words herself followed by Shelley who it was said couldn't have let the day go by without saying something! Both her and her dad made tributes to her mum and it was really emotional. Next up was Gavin and he also gave an extremely heartfelt speech followed by his best man who said some really lovely things about them both. Having heard the speeches it's difficult to look at the images and not get a lump in your throat.
These are some of our favourite images. It was difficult not to include every single image we delivered because there's so much to love about this wedding: Shelley's headpiece, her candy bouquet made by bridesmaid Lauren, her hand painted vans, her dress, Gavin's lego buttonholes, Logan's announcement boards, the cake, their adventure book, the tables...............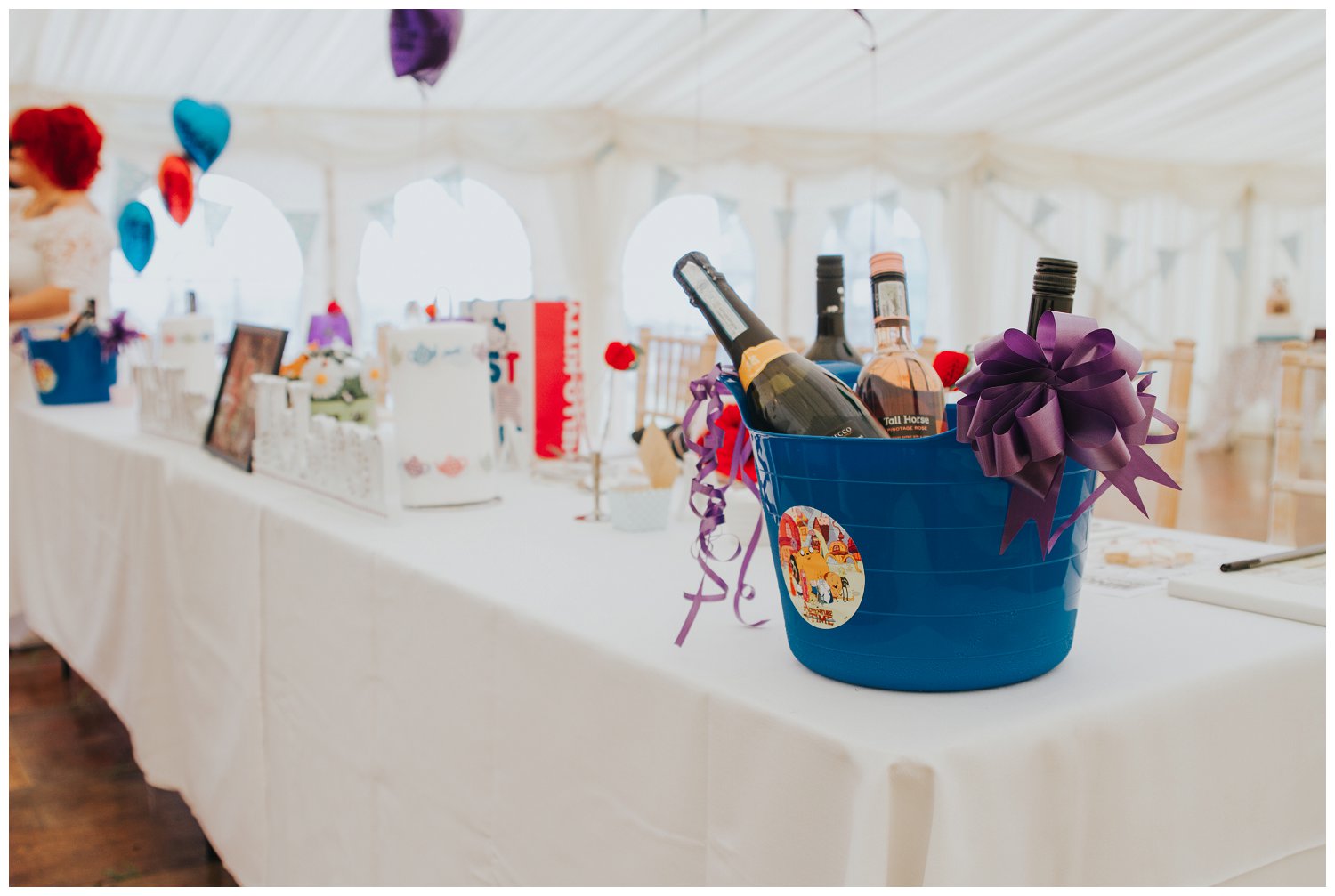 Shelley and Gavin, thank you so much for having us along on your special day, we absolutely loved it! We feel we really got to know you both and made new friends along the way :)
Stacey and Bryan x